Rapid Deployment

Wireless Nurse Call System

In this time of national health crisis, Special Care Systems is here to provide the solutions you need to support our community. The RCare Rapid Deployment wireless nurse call system allows you to support an expansion to the number of patient beds in your current facility, or in temporary facilities with deployment for up to 40 patients and 4 caregivers in record time. For facilities requiring more support for additional patients, expansion kits are available.
When there isn't time to run landlines or traditional nurse call systems, the RCare wireless nurse call system delivers with a small, touchscreen server and relies on a single Internet connection.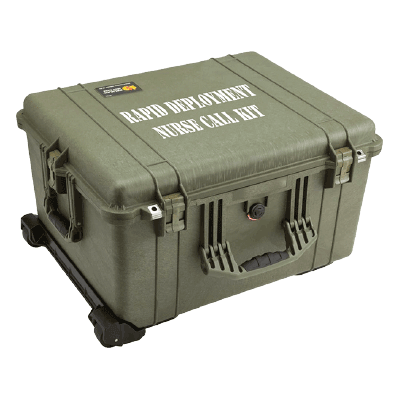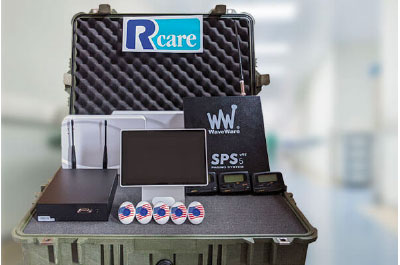 Patient beds are outfitted with clip-on placards that correspond to patient call buttons, so caregivers know which patients are calling.
The pushbutton pendants are waterproof and can be reused if disinfected, or disposed of, based on your budget and hospital requirements.
The Rapid Deployment Kit is shipped directly to your facility with easy-to-use instructions that will get your system up and running in less than an hour. As always, our expert staff at Special Care Systems is available by phone to support you with any assistance required during the setup process.
Everything You Need For An Out-of-the-box

Wireless Nurse Call System
The standard nurse call kit includes:
1 Nurse call master with integrated touchscreen console
40* Pushbutton pendants
40* Clip-on bed signs
4* Alpha-numeric Apollo pagers
1 Single-input serial page encoder 5W
1 G4 master receiver
2 G4 locators
1 Compact, heavy-duty Pelican case
Step-by-step instructions and link to video tutorial
*Increased capacity available through expansion kits
Recently Deployed To The
Following Facilities
Rochester Regional Health – Rochester, NY

Rochester General Hospital
St. Mary's Campus

Upstate University Hospital Downtown Campus – Syracuse, NY
Samaritan Medical Center – Watertown, NY
Auburn Community Hospital – Auburn, NY
United Health Services Hospitals – Binghamton, NY
NYC Health + Hospitals/Elmhurst – New York City, NY
Houston Methodist Hospital – Houston, TX
Columbus Hospital – New York City, NY
Detroit's TCF Center – Detroit, MI
SUNY Stony Brook - Long Island, NY