Special Care Systems
is an authorized distributor Carehawk Safety Communications. As a certified installer with over 20 years of experience, we provide design, integration, installation, training, and support in a wide range of healthcare environments.

The Carehawk System is built on a powerful microcontroller platform that has at its core is a 32 bit 500 MHz multithreading microprocessor and up to 8 GBs of removable flash based storage. Gone are the inflexible Eprom based memory and the low power 16 bit processors. This combination of processing power and memory storage gives this system unprecedented flexibility.
A NEW STANDARD IN

LIFE SAFETY COMMUNICATIONS?
Build the life safety communication system that suits your facility's needs! Not what your vendor wants you to buy.
Designed in the let century for let century needs. CareHawk systems are built on a modern reliable technology platform.
Harnessing the power of your network and the Internet to manage and maintain systems. Save maintenance dollars not having to drive to facilities.
Most affordable installed system on the market without compromising service or functionality. Distributed technology allows for a reduction of up to 2/3rds of the field wiring over traditional systems.
CareHawk systems are built in North America, quality tested and come with a standard 5 YEAR WARRANTY!
Designed for people not engineers. Intuitive user interfaces and wizard driven communication devices help reduce the burden on non-technical staff.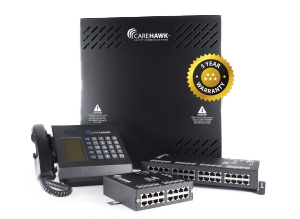 Advance audio processing ensures the highest quality in voice intelligibility.
Utilize the built in calendar to automate routine announcements like visiting hours. Have a lullaby play every time a baby is born
Send audio reminders to zoned speakers to remind staff to turn bed ridden patients over. Avoid disturbing patients at night with voice pages by using the 64 zones of paging to channel your message to the right location.
Pre-record emergency instructions in a calm, clear, and concise voice. Trigger these messages from security sensors, telephone codes, cell phones, or from a button push
Synchronize your facilities' clocks with no need for an expensive external master clock. Synchronize CareHawk digital clocks, analog clocks, wired clocks, or wireless clocks.
Automated local security alerts, district wide alerts, security detection, video and audio surveillance, and integration with other low voltage systems such as fire, security, and access control.