Wander Management Systems
Special Care Systems is an authorized distributor of the ResidentGuard Wander Management system by Accutech. As a certified installer with over 20 years of experience, we provide design, integration, installation, training, and support in a wide range of healthcare environments.

The rate of people suffering from Alzheimer's in the United States could triple by the year 2050–from 5 million currently to about 13.8 million. The ResidentGuard wander management systems give Alzheimer's, dementia and other "at-risk" residents the ability to move freely about their facilities while receiving the protection they, and their families need at a lower total cost of ownership to you.
Wander Management Solutions in Action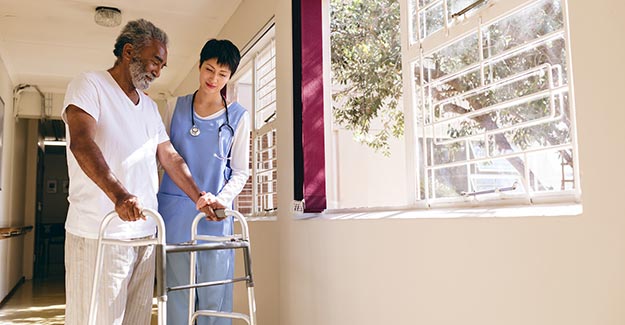 Special Care Systems helped Loretto Health and Rehab replace their antiquated nurse call and wander systems with a fully integrated wander management and wireless nurse call solution integrating everything into the existing on-site wireless paging solution. Learn more about why Loretto Health chose the ResidentGuard LS 2400 solution for their facility by downloading the Loretto Health and Rehab case study.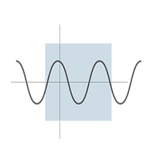 418 MHz Frequency
All ResidentGuard systems are shielded against RF interference for the life of the system. Each tag operates at a unique frequency (418 MHz) on the edge of a range available only to the Department of Defense. The embedded ID code on the RFID chip in addition to the unusual frequency it is transmitted on combine to make ResidentGuard the most reliable wander management system available—minimizing the problem of false alarms.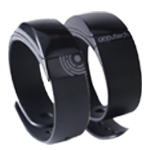 Wander Wearable Tag
Our comfortable, waterproof wander tags resemble a fitness wearable and can be easily cleaned on an as-needed basis and comes with replaceable bands. These wander tags are more dignified and discreet for the residents rather than the institutional bracelets that many competitive wander solutions offer. The tag can also be turned on or off at any time by the mobile ID-TAD to conserve battery.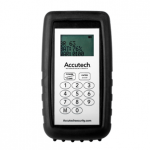 ID-TAD
Enable nurses to turn tags on/off, verify tag numbers, review warranty dates and check remaining battery life from the LCD screen.
WHY SHOULD YOUR FACILITY SHOULD CHOOSE RESIDENTGUARD FOR

WANDER MANAGEMENT AND SECURITY?
There are many reasons why facilities choose to install or upgrade their security systems using Accutech RFID-enabled products: lower total cost of ownership, advanced features, lower rate of false alarms, full compliance, the most comprehensive customer support program in the industry.
Flexibility. With both stand-alone or software-based systems, ResidentGuard from Accutech Security gives you the flexibility that comes from industry leading features, enabling your staff to spend more time caring for residents and less time managing systems.
Reliability. ResidentGuard wander protection systems are one of the most interference free on the market, using technology that minimizes interference from other devices and reduces false alarms. Mobile phones, lighting ballasts, floor buffers and other sources of general electromagnetic interference can hinder the function of RFID. However, Accutech RFID products operate at a unique frequency (418 MHz) on the edge of a range available only to the Department of Defense.
Integration. ResidentGuard wander alert systems can be easily integrated with nurse call, electronic access control (EAC), closed-circuit television (CCTV), fall detection and other existing security mechanisms within your facility.
Comprehensive Support. All Accutech systems are manufactured in the United States and are backed by the industry's most comprehensive customer support program – including 24-hour technical support and a full one-year warranty.
Compliance. All ResidentGuard products are in compliance with NFPA, FCC, NEC, CA, ETL and JCAHO requirements.