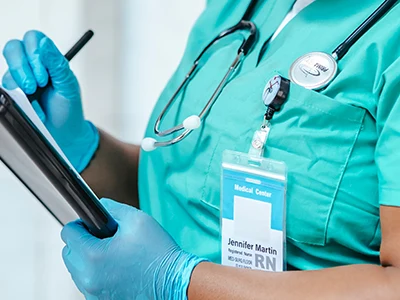 Access Control for Hospitals and Clinics
Special Care Systems serves as an official distributor for Accutech's Facility Guard Access Control System. Facility Guard delivers unmatched confidence and security for healthcare staff, setting new standards in access control for hospitals and facilities.

Hospitals and healthcare establishments face a variety of issues that require proven solutions in order to protect entry and secure their facilities. In addition, healthcare facilities pose a unique challenge because it is essential to balance patient accessibility with hospital security. FacilityGuard will provide a cost-effective solution to meet those challenges, while ensuring enhanced security measures with its integrated hospital security access control systems.
The software interface can be configured with different options depending on the size and scope of a facilities' needs. Facility Guard is suitable for locations with as few as two controlled doors and scalable to enterprise level applications.
Why Choose
FacilityGuard

for Access Control?
Facility Guard is an access control solution from Accutech that can integrate existing security systems within a facility. Multiple hardware components can be added to incorporate CCTV, lighting control systems, nurse calls, wander management, infant protection, HVAC controls, and much more.

Secure Auditing
Historically track the movements of staff, patients and visitors through an intuitive report generator.

Control of Contractor Activity
Assign credentials to expire after a contract is over and maintain a digital record of all system events involving contractors.

One Credential for Multiple Sites
Link remote sites to a single system through the healthcare facilities existing wide-area network infrastructure; giving users access to multiple sites with just one credential.
Easily manage access to pharmacies, research labs, operating rooms and other highly sensitive areas by requiring multiple credentials to gain access.
Ensure the integrity of sensitive areas such as clean rooms and research labs by easily implementing secure paths of ingress and egress.
✓
Distributed Access, Centralized Control
Implement electronic access control to all remote sites through a centrally located server based platform.
Easily revoke credentials and PINs from staff, patients, visitors and contractors without the hassle of managing keys and re-keying locks.
✓
Crisis Reporting and Monitoring
Receive real-time incident. A digital record of the facility's system activity is updated in real time.
✓
Simple Import and Export
Easily import and export credential holders in CSV format.
✓
Live database Connectivity
Seamlessly connect to third party staff management databases for live user updates and imports.
Easily integrate with CCTV, lighting control systems, nurse call, wander management, infant protection, HVAC controls, etc.Easily integrate with CCTV, lighting control systems, nurse call, wander management, infant protection, HVAC controls, etc.
Operational efficiency is crucial for all businesses, particularly those focused on resident care. Every second counts, and access control plays a significant role in fostering a streamlined workplace. When nurses and facility personnel have the assurance of a securely locked work area, they can efficiently fulfill their responsibilities of safeguarding and attending to residents.
Facility Guard access control for hospital & healthcare facilities simplifies specific administrative tasks like managing access to dispensaries, expensive medical equipment, and restricted areas, allowing for effortless addition and removal of permissions.